The centration system of the future.
visuReal Master
Introducing the HOYA visuReal Master

Discover an innovative video centration system that determines all necessary centration data precisely and automatically whilst blending seamlessly into your interior design. Fast and efficient without a cumbersome measurement set-up.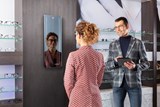 Lens centration is a crucial part of buying new glasses. It optimises the patient's vision, it needs to be completed precisely and reliably. However, centration can be an irritating process for your patients. They may have to keep putting on their chosen frames, endure different measuring techniques and in some cases undergo a further manual check. Is this all still necessary in today's digital age? With visuReal Master, it's not.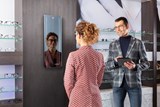 About the product

The system consists of both hardware and software components. A ground-breaking six-camera set-up in an extremely flat mirror case allows the centration system to be integrated seamlessly into any practice. Its mirror
case harmoniously blends into any interior design: mirrors are perceived as a natural part of an optical practice.

The software is user-friendly and fast. The mirror provides optimal support by evaluating the data automatically. All you have to do is guide your patient, start the measuring process and receive the measurements. The results can be checked and adjusted, if necessary.

You do not require any additional measurement tools nor lateral photographs.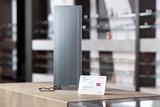 Benefits for your patients
A relaxing experience in your practice
Fast professional experience without the need for additional measuring tools
Complete confidence in the accuracy of the measurements that have been taken
They will automatically assume a natural posture
Supported by a light signal if they have a higher prescription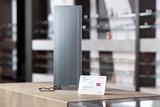 "The mirror is amazing, it's so easy to use and looks so stylish in practice, especially now that it has the random light sparkles to show that it's on! Patients are amazed when we tell them that 'behind the mirror are 6 cameras which take all the necessary measurements needed for the lens'. It's quick, accurate and so easy to use - effortless in fact."