The right tools for the right vision
Hoyalux WorkStyle 3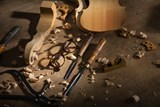 See better, work better

More than ever, patients are using their eyes at close to intermediate distances.* Without the correct lenses, this can cause digital eye strain symptoms, such as neck pain, headaches or blurred vision.* Hoyalux WorkStyle 3 is a premium choice from HOYA's occupational lenses which are specifically designed to provide better focus and a wider field of vision for close to intermediate range distances.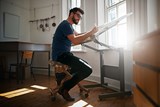 Meeting your patients' needs
The premium choice for professionals and other patients wearing progressive lenses who constantly switch from one device to another at the near to far-intermediate distances. You can select the best option for your patient from 3 available design variations for easier adaptation and better visual comfort.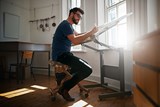 A complete vision solution for progressive

With a wider field of vision and shorter viewing distance, HOYA occupational lenses are truly designed for activities indoors. Together with progressive lenses, HOYA occupational lenses can provide your patients a complete solution for their vision needs.
Hoyalux WorkStyle 3 technologies
Optimised visual performance
AdaptEase 技術
輕鬆適應、前所未有的寬廣視野、最佳化的中距離視野,可順暢地使用 3C 產品。
配戴位置客製化
將個人配戴參數納入考量,以獲得更準確的矯正,
進而提高視覺敏銳度。
整合式雙面設計
將視覺扭曲降到最低
減少眼睛移動,獲得更放鬆的視覺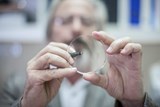 Hoyalux WorkStyle 3 can offer you:
More satisfied customers thanks to the availability of a total visual solution specifically recommended based on patient activities
A premium tailored solution for the most demanding patients
A lens that answers the demand of today and can prevent Computer Vision Syndrome symptoms and improve visual comfort of your patients.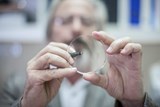 索取有關我們產品的更多資訊
在 HOYA,我們準備好回答您可能有的任何問題、探索我們的潛在合作夥伴關係,並聽取您想與我們分享的想法。 填寫下表,與我們聯絡。