The right tools for the right vision
Hoyalux WorkStyle Business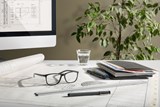 Advanced technology for more comfort

Progressive lenses are versatile and indispensable for covering a wide range of near to far distances. But they are not designed to support prolonged periods of closer focus. To offer your progressive wearers a complete vision solution, you might recommend them also a pair of occupational lenses.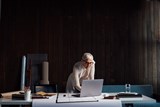 Meeting your patients' needs
Hoyalux WorkStyle Business is a quality choice for patients wearing progressive lenses who would like to have a better vision areas when working on the computer, reading or switching between the various digital devices.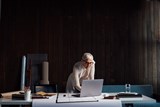 Benefits for your patients

Ergonomic position during near and intermediate distance activities which can prevent Computer Vision Syndrome symptoms
Improved visual comfort at the near and intermediate distances
A complete visual solution for presbyopic patients, especially with high addition and reading glass wearers
Hoyalux WorkStyle Business technologies
Optimised visual performance
整合式雙面設計
將視覺扭曲降到最低
減少眼睛移動,獲得更放鬆的視覺
QuickFocus
Natural head posture with less eye rotation for near work.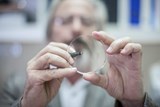 Hoyalux WorkStyle Business can offer you, Eye Care Professional:
More satisfied customers thanks to the availability of a total visual solution specifically recommended based on patient activities
Maximising sales opportunity and potential by selling an additional pair of frame and lens for existing patients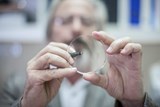 索取有關我們產品的更多資訊
在 HOYA,我們準備好回答您可能有的任何問題、探索我們的潛在合作夥伴關係,並聽取您想與我們分享的想法。 填寫下表,與我們聯絡。