The right tools for the right vision
Hoyalux WorkStyle 3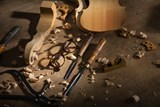 See better, work better

More than ever, patients are using their eyes at close to intermediate distances.* Without the correct lenses, this can cause digital eye strain symptoms, such as neck pain, headaches or blurred vision.* Hoyalux WorkStyle 3 is a premium choice from HOYA's occupational lenses which are specifically designed to provide better focus and a wider field of vision for close to intermediate range distances.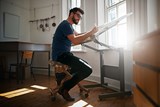 Meeting your patients' needs
The premium choice for professionals and other patients wearing progressive lenses who constantly switch from one device to another at the near to far-intermediate distances. You can select the best option for your patient from 3 available design variations for easier adaptation and better visual comfort.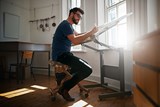 A complete vision solution for progressive

With a wider field of vision and shorter viewing distance, HOYA occupational lenses are truly designed for activities indoors. Together with progressive lenses, HOYA occupational lenses can provide your patients a complete solution for their vision needs.
Hoyalux WorkStyle 3 technologies
Optimised visual performance
AdaptEase Technology
Un champ d'une largeur sans précédent à toutes les distances pour une utilisation optimisée des outils digitaux.
Binocular Harmonization Technology
Prise en compte des différences de prescription entre les deux yeux pour équilibrer la géométrie.
3D Binocular Vision
Réduction significative de la distorsion périphérique.
Prise en compte des paramètres de port
Un confort visuel et des champs de vision améliorés.
ID Technology
Distorsion visuelle minimisée
Moins de mouvements oculaires pour une vision plus détendue
View Xpansion Technology
Des champs de vision larges et nets à toute distance.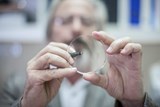 Hoyalux WorkStyle 3 can offer you:
More satisfied customers thanks to the availability of a total visual solution specifically recommended based on patient activities
A premium tailored solution for the most demanding patients
A lens that answers the demand of today and can prevent Computer Vision Syndrome symptoms and improve visual comfort of your patients.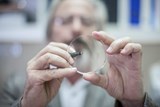 Demander plus d'informations sur nos produits
Chez HOYA, nous sommes prêts à répondre à toutes vos questions, à explorer notre partenariat potentiel et à entendre les idées que vous souhaitez partager avec nous. Contactez-nous en complétant le formulaire ci-dessous.