The right tools for the right vision
Hoyalux WorkStyle Business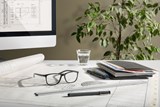 Advanced technology for more comfort

Progressive lenses are versatile and indispensable for covering a wide range of near to far distances. But they are not designed to support prolonged periods of closer focus. To offer your progressive wearers a complete vision solution, you might recommend them also a pair of occupational lenses.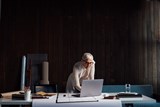 Meeting your patients' needs
Hoyalux WorkStyle Business is a quality choice for patients wearing progressive lenses who would like to have a better vision areas when working on the computer, reading or switching between the various digital devices.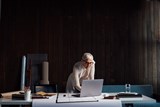 Benefits for your patients

Ergonomic position during near and intermediate distance activities which can prevent Computer Vision Syndrome symptoms
Improved visual comfort at the near and intermediate distances
A complete visual solution for presbyopic patients, especially with high addition and reading glass wearers
Hoyalux WorkStyle Business technologies
Optimised visual performance
Binocular Eye Model
Pour une harmonisation des images et une expérience visuelle binoculaire inégalée
Integrated Double Surface Design
Pour une réduction des distorsions et une transition naturelle entre les différentes zones de vision
View Xpansion Technology
Des champs de vision larges et nets à toute distance.
Réduction des effets de tangage
Image stable dans une situation dynamique.
QuickFocus
Natural head posture with less eye rotation for near work.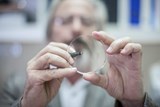 Hoyalux WorkStyle Business can offer you, Eye Care Professional:
More satisfied customers thanks to the availability of a total visual solution specifically recommended based on patient activities
Maximising sales opportunity and potential by selling an additional pair of frame and lens for existing patients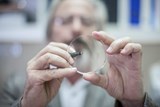 Demander plus d'informations sur nos produits
Chez HOYA, nous sommes prêts à répondre à toutes vos questions, à explorer notre partenariat potentiel et à entendre les idées que vous souhaitez partager avec nous. Contactez-nous en complétant le formulaire ci-dessous.