Together, we can tackle myopia in children
MiYOSMART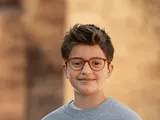 An estimated 5 billion people, or half the global population could be affected by myopia by 2050*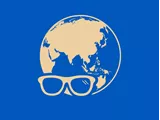 Myopia is a global concern.
Annual myopia progression rate is most rapid under 10 years of age. Significantly greater rates of progression can be seen especially in children with high myopia.
If left untreated, myopia can lead to lasting vision problems. But together we can tackle myopia in children.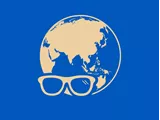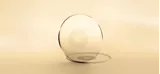 An innovative spectacle lens.
This spectacle lens based on revolutionary Defocus Incorporated Multiple Segments (DIMS) Technology was developed in cooperation with The Hong Kong Polytechnic University in 2014. MiYOSMART is easy to fit, just like a regular single vision lens.
In 2018, the MiYOSMART lens won the Gold Prize, Grand Award & Special Gold Award International Exhibition of Inventions of Geneva, Switzerland. In 2020, it won the Silmo d'Or Award in the Vision category at the Silmo Paris Optical Fair.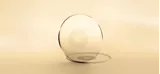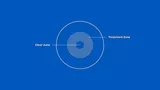 A revolutionary technology.
With the exclusive non-invasive DIMS Technology, the lens corrects the visual defect on its entire surface and has a ring shaped treatment area to slow down myopia progression. The alternation of the focus area and defocus area provides clear vision and manages myopia simultaneously1.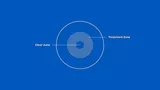 Scientific Evidence of MiYOSMART
2-year Randomized Clinical Trial
Defocus Incorporated Multiple Segments (DIMS) lenses slow myopia progression: a 2-year randomized clinical trial (BJO)
Read the full study
3-year Follow-up Study
Myopia control effect of defocus incorporated multiple segments (DIMS) lens in Chinese children: results of a 3-year follow-up study (BJO)
Read the full study
6-year Follow-up Study
Long-term myopia control effect and safety in children wearing DIMS lenses for 6 years
Read the full study
Overview of MiYOSMART Evidence
Discover the full overview of all MiYOSMART evidence to date. More than 25 publications from across the globe conducted on the MiYOSMART D.I.M.S. Technology over the years.
Discover all the studies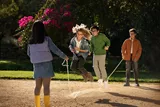 Designed to fit a child's active life.
MiYOSMART comes with an easy-to-wipe special anti-reflective, durable coating. With its Eye Shield, young patients get the added assurance of an impact resistant material and full UV protection.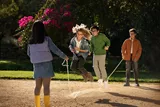 MiYOSMART Sun - Protect How They See the World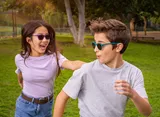 With MiYOSMART Sun, slowing of myopia progression and protection from intense sunlight come together.2-6†
MiYOSMART Sun lenses adopted DIMS Technology for effective myopia management and correction of myopic refractive error, while protecting from intense sunlight and increasing eye comfort.2-6
Just like MiYOSMART clear lenses, MiYOSMART Sun lenses offer 100% protection from UVA and UVB,7* reducing the risk of long-term damage to the eye.
*As per EN ISO 8980-3:2013 and ANSI Z80.3-2015 Standards.
††Assuming photochromic lenses are used at all times or in addition to MiYOSMART clear lenses, or polarized lenses are used in addition to MiYOSMART clear lenses. Patients should always consult their Eye Care Professional for treatment decisions and instructions for use.
Learn more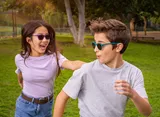 "Together, we can tackle myopia in children"
*Holden B.A., Fricke T.R., Wilson D.A., Jong M., Naidoo K.S., Sankaridurg P., Wong T.Y., Naduvilath T.J., Resniko S. Global Prevalence of Myopia and High Myopia and Temporal Trends from 2000 through 2050. American Academy of Ophthalmology. 05/2016, vol.123, no. 5, p.1036–1042.
1. Lam CSY, Tang WC, Tse DY, Lee RPK, Chun RKM, Hasegawa K, Qi H, Hatanaka T, To CH. Defocus Incorporated Multiple Segments (DIMS) spectacle lenses slow myopia progression: a 2-year randomized clinical trial. British Journal of Ophthalmology. Published Online First: 29 May 2019. doi: 10.1136/ bjophthalmol-2018-313739
2. Ho CL, Wu WF, Liou YM. Dose-Response Relationship of Outdoor Exposure and Myopia Indicators: A Systematic Review and Meta-Analysis of Various Research Methods. Int J Environ Res Public Health. 2019;16(14):2595.
3. WSPOS. Sunlight Exposure & Children's Eyes Consensus Statement. 2016. Available at: https://www.wspos.org/wspos-sunlight-exposure-childrens-eyes-consensus-statement/ (Last accessed 20/02/2023)
4. Lakkis C, Weidemann K. Evaluation of the performance of photochromic spectacle lenses in children and adolescents aged 10 to 15 years. Clin Exp Optom. 2006;89(4):246-252.
5. Renzi-Hammond LM, Hammond BR Jr. The effects of photochromic lenses on visual performance. Clin Exp Optom. 2016;99(6):568-574.
6. Wu PC, Kuo HK. Effect of photochromic spectacles on visual symptoms and contrast sensitivity of myopic schoolchildren treated with low dose concentration atropine. Invest Ophthalmol Vis Sci. 2016;57:2484.
7. HOYA data on file. Transmission, traffic light recognition, and UV blocking test for MiYOSMART clear and MiYOSMART sun spectacle lenses. 02/2023. Tests were conducted at room temperature (23°C).