For nearly 80 years, HOYA Vision Care has been dedicated to helping ECPs serve their patients and grow their practices. This has come in many forms, but most recently and most impactfully, HOYA launched its Visionary Alliance program — a redefined loyalty program for independent eye care providers.
This unique program stands out in the industry as an effective way to connect, inform, and empower independent ECPs, all while they earn rewards and benefits.
Here's what the ECP should know about the Visionary Alliance and why it will bring together and elevate ECPs, as well as strengthen their business and patient experience.
Any ECP can join
The Visionary Alliance program serves as a community for HOYA customers all around the US.
It's an opportunity for ECPs to feel connected and supported. We believe that just because ECPs are independent, doesn't mean they should feel alone or operate without the resources, insights, and cost-effective decisions they need to grow.
All customers of Hoya are welcome. Any ECP can join the Visionary Alliance at the Insider level, automatically through HOYA Hub or the HOYA Learning Center. While there are three primary tiers — Insider, Pro, and Elite — each one is attainable for any independent ECP.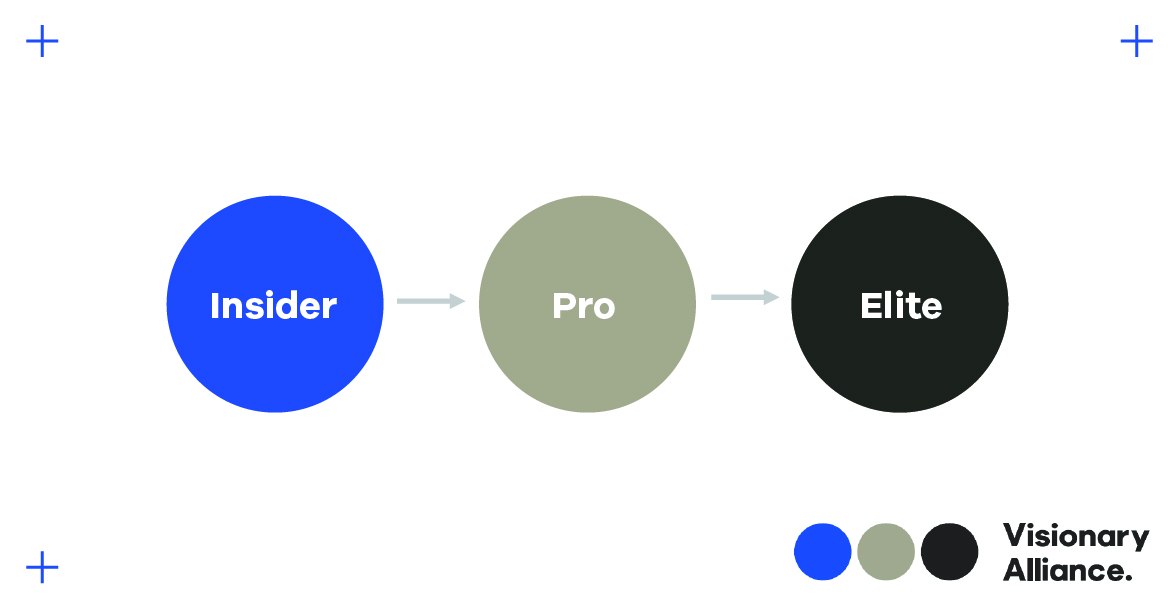 It's simple, with a single sign-on (SSO) portal
Another day, another account. Not with the Visionary Alliance. Our new loyalty program is meant to make ECPs' lives easier, not more complicated. That's why the HOYA team has made it easy to enroll in the loyalty program and start seeing results in the dashboard as soon as possible.
All ECPs can simply join the HOYA Hub — our best-in-class and first-in-class customer service portal. It's the gateway into all things at HOYA labs. Anything an ECP needs to find, from shipping labels to job status, is within the HOYA Hub. If you've joined the HOYA Hub, you are automatically signed up and gain access to the Visionary Alliance, simply accept the terms & conditions the first time you log in. The same goes for the Hoya Learning Center: sign up for the Learning Center, and you gain access to Visionary Alliance.
HOYA customers have single sign-on (SSO) access to the HOYA Hub, HOYA Learning Center, and monthly HOYA Business Review, Growth Programs, and preferred pricing on additional services.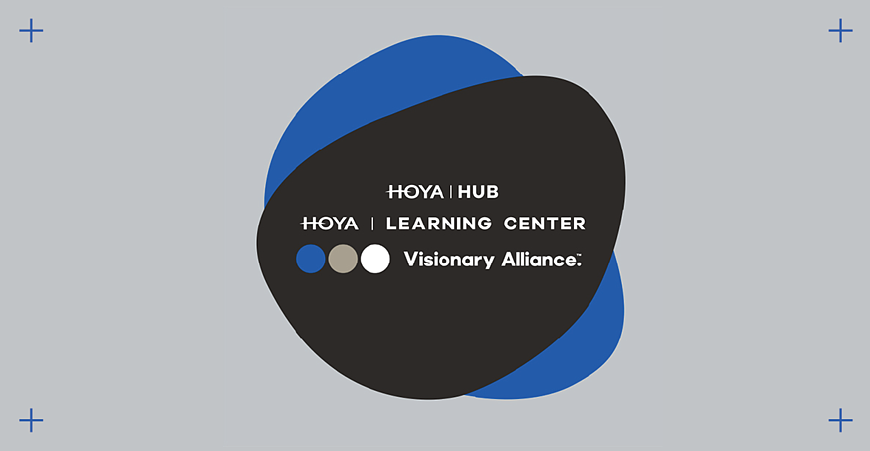 Already want to sign up? Enroll here.
It's loyalty redefined
As the HOYA team was working to create this program, the goal wasn't to have the best loyalty program there is in the optical industry. We wanted it to be a gold standard for loyalty programs across industries. It is a full replacement of our current marketing programs, now an all-encompassing umbrella brand of everything we offer from a marketing and services perspective for our ECPs moving forward.
The whole concept of the Visionary Alliance is built on this philosophy: the more loyal you are to Hoya, the quicker you gain more benefits and rewards and move up the three loyalty tiers: Insider, Pro, and Elite. Each tier earns points, and with every level earned, more value-added services are unlocked. Visionaries at all tiers have a personalized, real-time dashboard that shows their status level, jobs, points earned, and opportunities to earn more.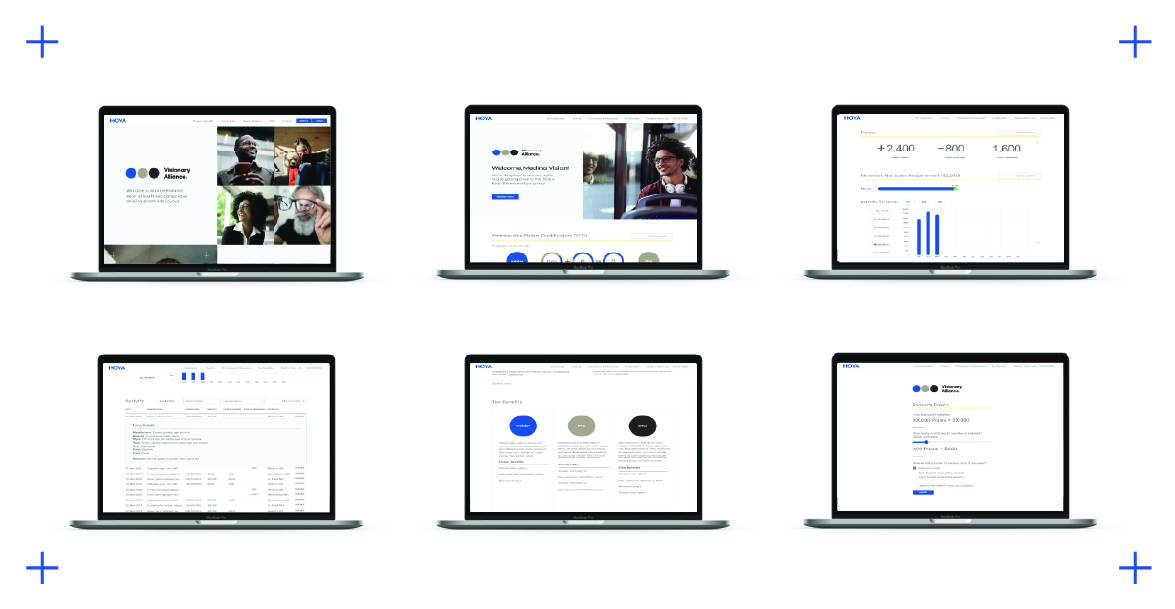 It helps ECPs run their business their way
At HOYA, we embrace the ECP and their independent brand. They are known and beloved by their local communities, so we want to support those independent goals as much as we can. Through the Visionary Alliance program, HOYA empowers ECPs to build, grow, and run their businesses according to their vision and unique business needs.
"The Visionary Alliance is much more than a loyalty program," said Patrick McCarthy, ECP Channel Vice President at HOYA Vision Care. "It is a truly breakthrough program designed with and for our customers with a common goal – to offer comprehensive professional resources within a vibrant community of independent ECPs who want to build, grow, and run their businesses their way. It's unlike any other in the vision industry, and we are very proud of that."
Ultimately, when you bring together a network of independent ECPs, you're allowing an ECP to remain independent while still receiving rewards and benefits as if they're part of a larger group. HOYA has worked with third-party vendors to bring additional value to independent ECPs that they may not have access to on their own.
It's a source of knowledge, care, and foresight
Globally, ECPs deliver critical vision services that improve their patients' quality of life. The Visionary Alliance program offers comprehensive professional resources, tools, and support within a vibrant community of ECPs — resources that strengthen their services and patient experience so they can truly improve their patients' quality of life the way they want to.
HOYA offers ECPs valuable insights and resources that fall into three buckets: knowledge, care, and foresight. Within the Visionary Alliance program, ECPs will gain access to benefits that fall into each bucket.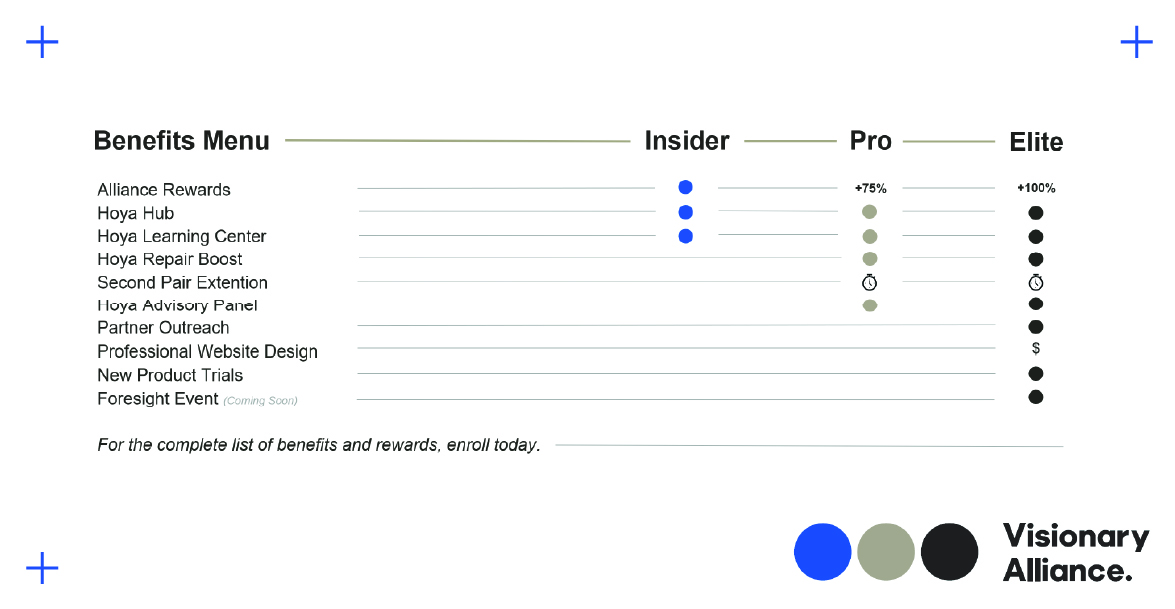 With the benefits and cost savings that ECPs will experience by participating in the Visionary Alliance program, they will see the impact on the bottom line and in their day-to-day operations. At HOYA, we want our ECPs to feel connected, and grow their practice in ways they never realized were possible.
We're here to solve your biggest challenges and help you focus on the most impactful parts of your practice.
Join the exclusive community of independent visionaries to start earning rewards by enrolling today.
Your patients. Your brand. Loyalty redefined.