Make the most out of HOYA's Visionary Alliance loyalty program
HOYA Vision Care designed the Visionary Alliance loyalty program for independent eye care providers (ECPs). Here are the reasons why:
1. To connect eye care professionals to a supportive community
2. To offer ECPs multiple avenues to grow their practice
3. To ensure ECPs have the technology to set their practice apart
Below are a few ways that ECPs can make the most of their membership in the Visionary Alliance.
Unlock more benefits and move up tiers by earning points
As members of the Visionary Alliance program, ECPs are able to earn points for every eligible purchase of qualifying HOYA products. As you earn points, your status increases from Insider to Pro to Elite – and simultaneously, you unlock more benefits and rewards along the way.
Each member earns points at every tier, and the higher you go, the more value-added services you unlock. Visionaries at all tiers have a personalized, real-time dashboard that shows their status level, jobs, points earned, and opportunities to earn more.
Premium product is the fastest way to move up
Once you enroll, the fastest way to earn points is by ordering any qualifying HOYA branded lens designs bundled with anti-reflective coating (EX3®, Recharge®, and EX3+®). Keep your eye out for bonuses, which will be available when you add any Sensity® Family product or Coppertone to the order. There are no contracts required and points are earned from the very first job. As long as you meet monthly minimums, all benefits can be redeemed.
Use your membership to expand your expertise
This loyalty program helps expand your already extensive knowledge base, not just through information from HOYA but also by allowing you to connect and learn from other experts.
Even at the Insider level, you gain access to resources like the HOYA Hub, HOYA Learning Center, and HOYA Business Review. These sources equip your practice with ECP tools, continued education, and the latest technology to facilitate favorable growth.
As you gain traction and climb to the Elite tier, you'll obtain VIP access to priceless opportunities, such as industry events and new product trials. Below are the benefits you could experience at different tiers for putting knowledge and expertise at the foundation of your practice.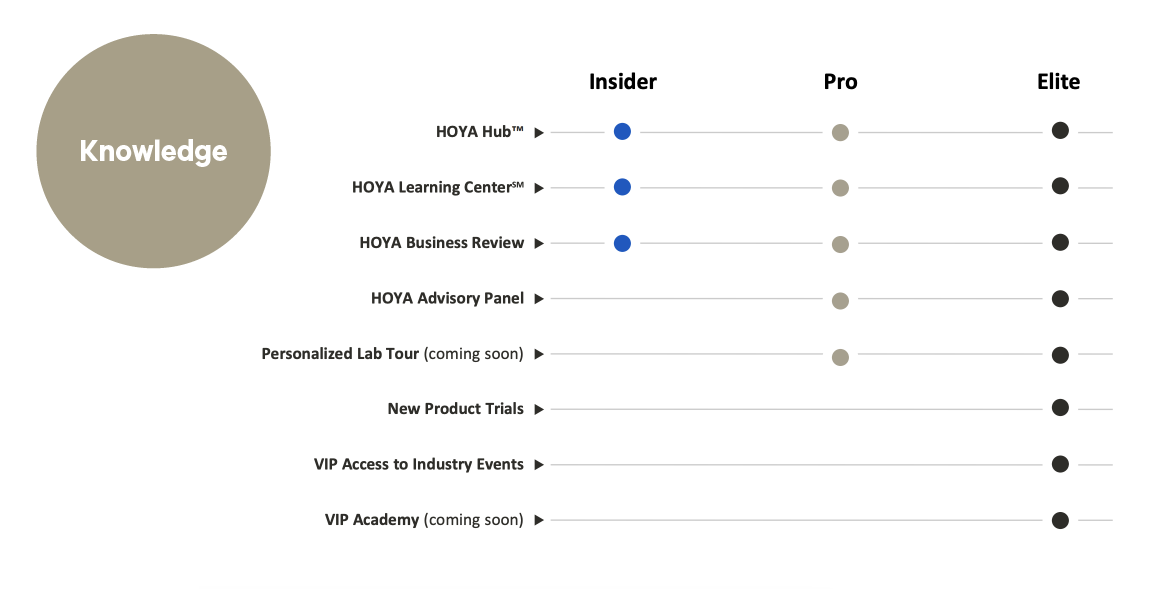 Use your points for benefits geared toward patient satisfaction
The Visionary Alliance offers benefits that help you better care for and engage with your patients. From online booking tools to technology that improves how you measure and fit glasses, you have the opportunity to put your points toward perfecting the patient experience.
At the Elite level, you can start offering your team the latest and greatest lens technology with access to exclusive employee pricing and discounts. Happy employees = happy patients.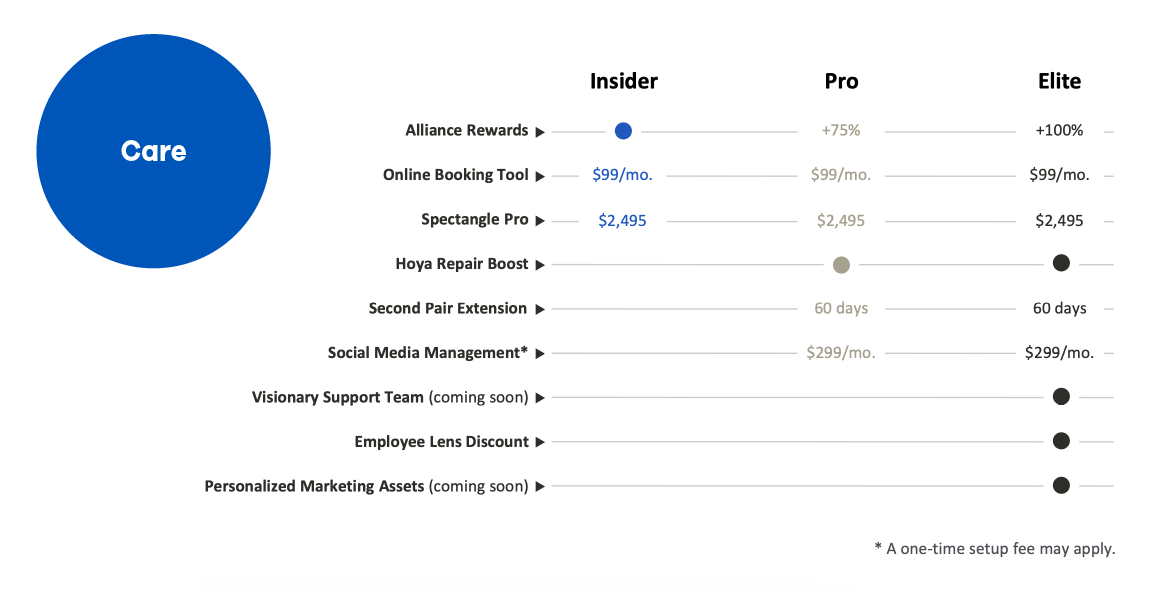 Use your status to access tools that will help the business side
As a member of the Visionary Alliance, you can earn your way up to the tools you need to care for your patients and to grow your business. Collect real-time feedback from satisfied patients with technology like Occular Innovations – a benefit offered for a low price across all tiers of the Visionary Alliance program. Better reviews = better business.
As you aim for benefits at the Elite level, you can start converting online traffic into scheduled appointments with a professionally designed, mobile responsive, branded website. See more of the benefits that directly support your business efforts.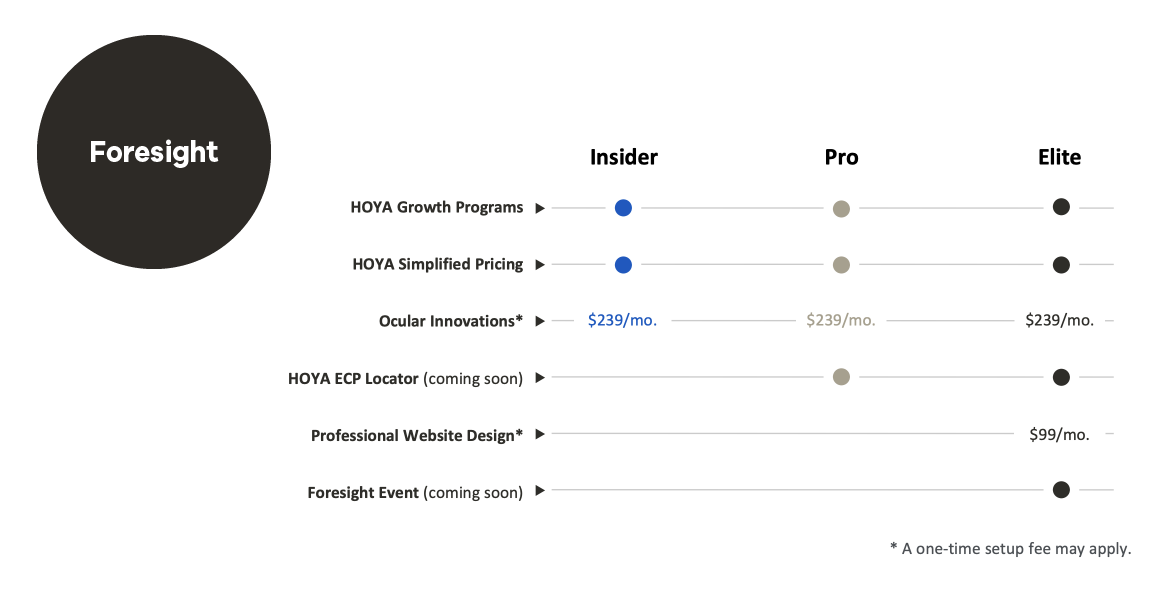 Start using Visionary Alliance points and rewards to increase patient satisfaction and set your practice apart.